Several changes have taken place along the North Shore Road to help keep all users safe while sharing the road together. These efforts include reducing the speed limit to 30 km per hour, new signs and education. This week we focus on what the signs means and the role everyone plays in sharing the road, whether as a pedestrian, cyclist or motorist.
The green Bike Route signs label the road as a shared route with bicycles. New Shared Lane signage marks areas where users need to travel single file and should not pass because it is unsafe, such as on hills and tight corners. Motorists are reminded to stay back and keep space in these areas until is safe to pass.
Understanding the signs
Speed limit reduced to 30 km/h. Please slow down and respect the speed limit.
Watch for Pedestrians signs warn motorists and cyclists to be aware of pedestrian traffic and travel with caution.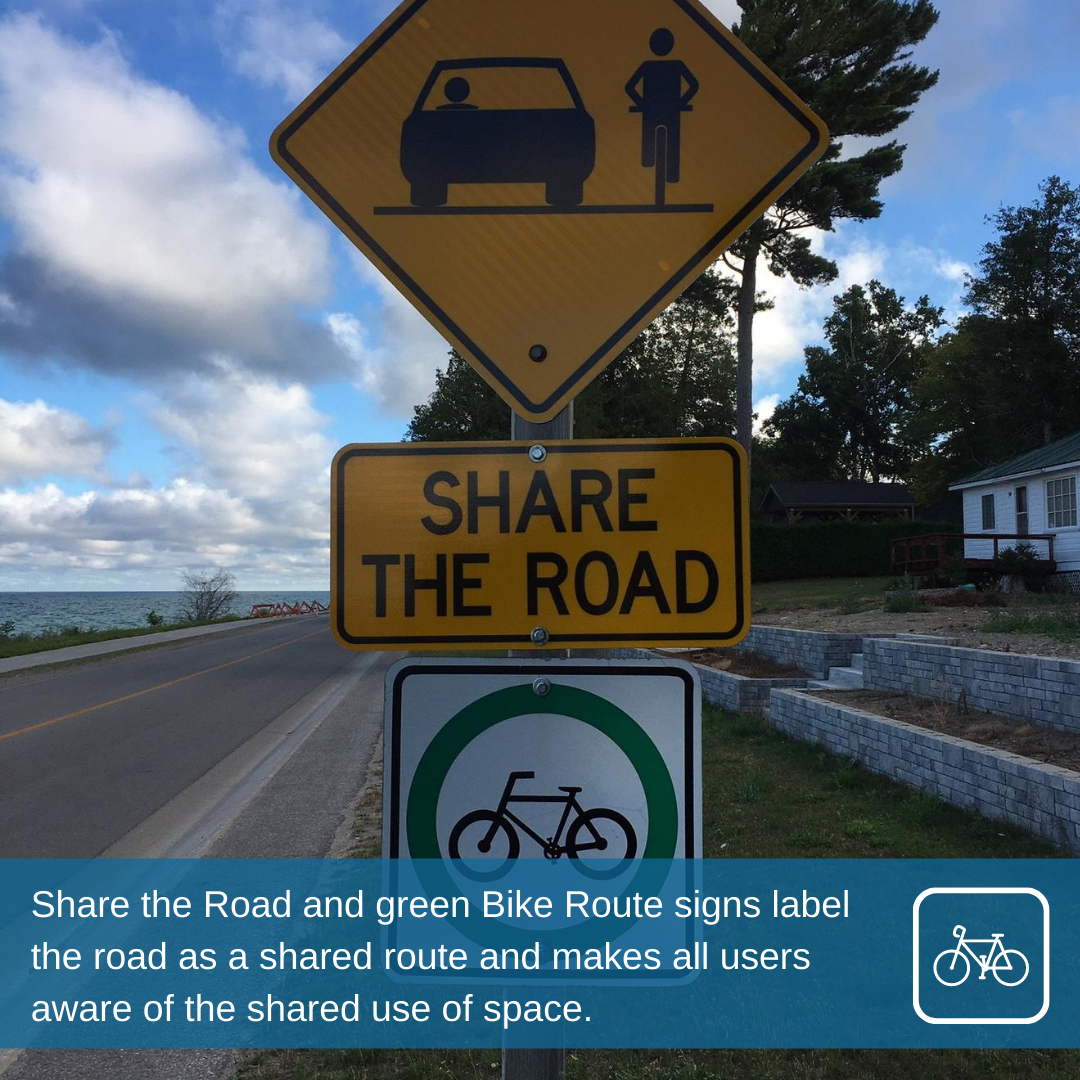 Share the Road and green Bike Route signs label the road as a shared route and make all users aware of the shared use of space.
This is a Shared Lane sign. It indicates to all users to travel single file and that it's not safe to pass in that area.
How pedestrians can improve safety:
Be visible
Walk facing traffic when there are no sidewalks or a trail
Keep dogs on a leash
Be aware of your surroundings
Keep the volume on earbuds low to hear others
How cyclists can improve safety:
Be courteous
Be predictable
Wear a helmet and reflective gear
Ride on the right
Make sure you have lights (front and back), reflectors and a bell
Follow the rules of the road, speed limits and stop at all stop signs
When riding two abreast, leave the left half of the lane clear to allow drivers to see the road ahead for safer passing
How motorists can improve safety:
Pass with care, give 1 metre of space
Yield to oncoming cyclists when turning left
Watch for cyclists and pedestrians
Communicate with cyclists and pedestrians (give a friendly wave, make eye contact)
Follow posted speed limits and road signs
Be aware of your surroundings
By working together, all road users can enjoy our roads safely and respectfully. Show your commitment to sharing the road! Request your "I Share the Road" sticker and/or magnetic decal.
Learn more about our Bike Friendly Friday safety campaign in partnership with Saugeen Shores Police Services. The public is invited to share their biking photos with @SaugeenShoresON on Facebook, Twitter or Instagram using the hashtags #SSBikeFriendlyFriday and #ExploretheShore.